The major cause of small business failure and inefficiencies are broken processes. Many processes in these businesses were created by default rather than by design. They have however remained in that state even in business growth, compounding into business chaos.
Customers today have a choice as to which business they would like to do business with, and they have a slew of options. Business decisions must be based on appropriate performance metrics including process effectiveness and industry insights to keep the businesses competitive to attract and retain customers.
Process Efficiency
Efficiency assesses the extent to which a process performs relative to its full potential. Higher efficiency indicates delivery of a greater output of products or services compared to the assets used to generate them.
A business operating inefficient or broken processes will be at a competitive disadvantage within its industry with slower or delayed customer response time to deliver products or services with escalating costs. Such an operation is unsustainable in the long term.
Cause of Small Business Failure – What Causes Broken Processes?
One of the early fathers of quality management – W. Edwards Deming stated
"94% of most (business) problems and opportunities for improvement belong to the system and not the individual"

W. Edwards Deming
Broken processes are a major culprit – sometimes unknowingly.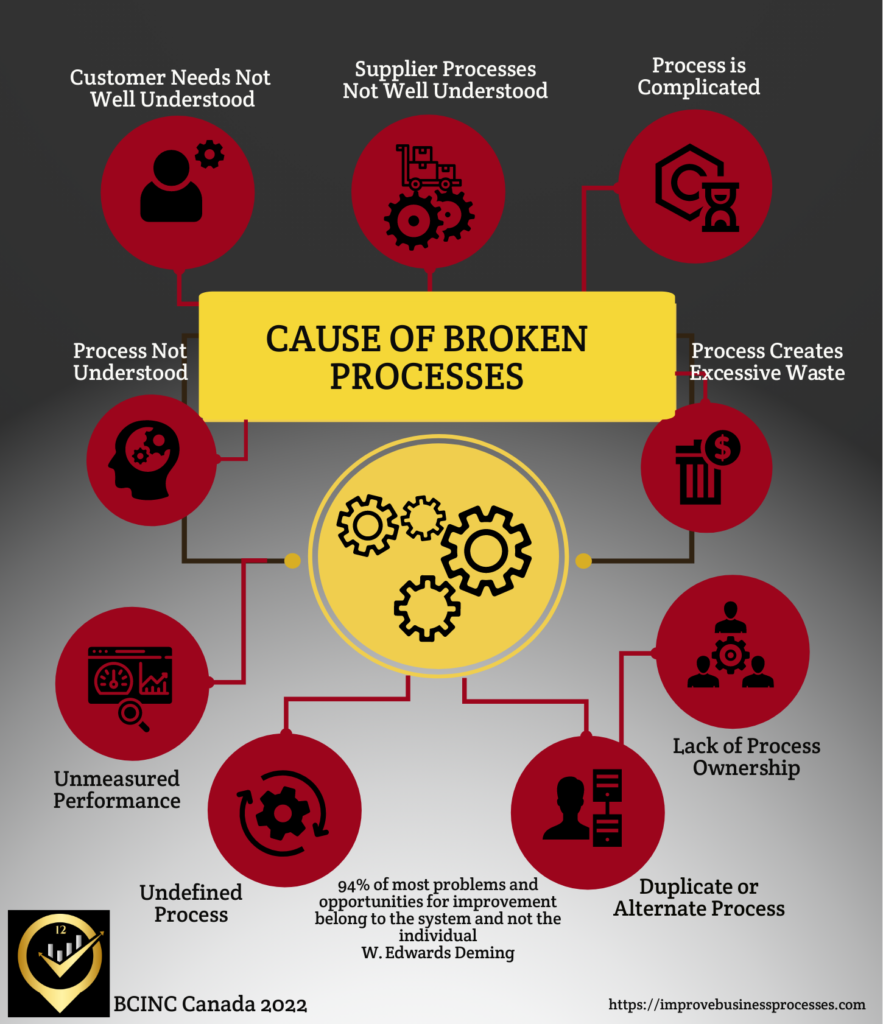 There are at least nine causes of broken processes in a business – See Infographic.
1. The Process is Undefined
A business operating under processes that were developed by default may have some processes undefined. Work should be clearly defined within the framework of systems and processes, leaving no room for ambiguity and subjective operation.
2. Duplicate or Alternate Processes
Some business departments operate under autonomy and exhibit siloed behavior. Because inter-departmental communication is minimal, duplicate or alternate processes may be developed to supposedly "address the unique way in which our department operates".
3. Cause of Small Business Failure – Lack of Process Ownership
Core business processes require accountability to ensure that they continue to function effectively and quickly address process related issues as they may arise. Accountability ensures that all internal employees that execute this process are kept abreast of any changes to the business.
4. The Process is Not Well Understood
Without process owner accountability to engage and disseminate any changes to a process, there will not be a broad understanding of the relevant processes and any important details.
5. The Process is Complicated
Making a process as simple as possible ensures that it gets used. Complicated and confusing processes will not be used, and employees will employ their own devices to get their job done.
6. Customer Needs are Not Well Understood
A business must be customer – centric as it is primarily in operation to address specific customer needs by providing them with solutions. This requires that they understand their customer pain points and develop relevant customer processes to clearly define the customer journey
7. Supplier Processes are Not Well Understood
It is important that supplier processes are well understood to fully learn about their delivery cycles to avoid delays to outgoing deliverables to the customer.
8. Process Creates Excessive Wastes
Waste can be in the form of rework, rejects and hidden waste. These are red flags which point at underlying issues in process effectiveness and must be quickly addressed.
9. Relevant Performance Metrics Should be Selected
Selecting Poor Performance Metrics Can be a Cause of Small Business Failure
Appropriate and relevant performance metrics that can provide meaningful interpretation and direction in decision making should be selected.
If a business does not select the right metrics and chooses to only generate "easy" metrics which might be irrelevant, business trends and decisions will not have much weight or provide meaningful direction.
Conclusion
The major cause of small business failure and inefficiencies are broken processes. Streamlining, optimization and automations are typical repair options. Need Assistance?
References