Every business needs a document management framework to streamline document creation and their management. It serves as the backbone for development of a document management system.
This improves access to information, increases efficiency, reduces operating costs, protects critical information, ensures compliance, and diminishes litigation risk.
The Document Management Framework
This framework requires that you give some thought to the types of documents that may be required for the effective running of your business. It :
Provides a coordinated approach to the creation of policies, procedures, and other documents, seeing them through the development and review life cycle
Ensures that documents support the business in complying with relevant regulations and align with in-house requirements
Provides employees with appropriate access to the documents that affect them
Optimizes the number of documents to the minimum necessary for sound business practice by ensuring that documents are not being randomly created
Delivers consistency, standardization and predictability in documentation and ensures only current versions are accessible using document control measures
Supports quality assurance and continuous improvement
Elements of the Framework
There are 4 key elements that form the foundation of a document management framework. These are a naming convention, document types, document control procedure, and a filing structure.
Naming Convention
The naming convention employed will differ from business to business. You can name your documents whichever way best suits your business as long as they can easily be retrieved when a search is conducted.
To this end, the use of document identifier codes are helpful.
Document Types
Regulations, By-Laws, Standards, and Industry Best Practices – Document Governance Framework
These set of documents require some form of compliance – mandatory or adherence, and any non-compliance may put the business at risk of litigation or penalties.
Policies
A policy is a concise statement that describes governing principles and intentions, to guide business-wide practices. Examples are Health & Safety Policy, Quality Policy.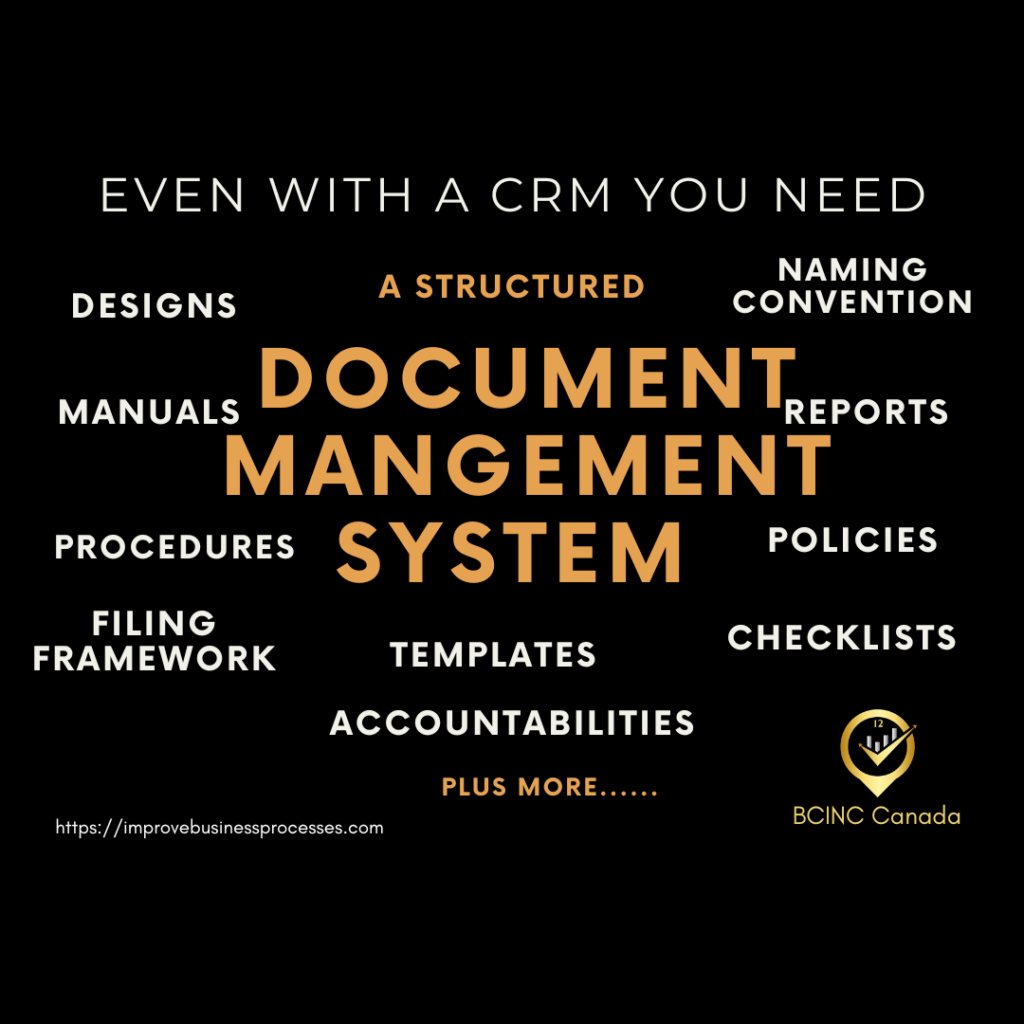 Procedures
Procedures are set out in a step-by-step manner detailing how a specific business activity must be carried out.
They also clearly define how a policy will be implemented along with roles and responsibilities.
Guides, Manuals and Reports
These are usually more detailed documents that do not fall under any of the other document type categories.
Work Instructions
Work Instructions are an internal document developed and implemented by a particular department or unit.
They are used to standardize and recommend work practices or processes that are used within their area.
These documents are developed and amended as required by members of that area under the recommendation of the appropriate Manager.
Checklists
Contain a list of items you need to verify, check or inspect and often complement procedures and work instructions.
Templates
Templates are important because documents are created from them – letterheads, slide decks, emails, contracts, and so on. The business must ensure that their employees are sending correctly branded and compliant documents.

Employees should also have access to a file folder with correct templates for all their documents. Having a procedure for version control and a system for general notification when changes are made to templates is essential.
Filing Structure for the Document Management System
This is how all documents will be stored in appropriate folders. The filing structure is usually hierarchical and if properly set up will support easy retrieval of filed documents for use and assist the document governance framework
Conclusion
A document management framework is the foundation on which a document management system is built. An understanding of the fundamentals of the framework helps the initial assessment of your current system of filing and retaining both paper and electronic documents.
For assistance:
Related Articles
Small Business Document Management System – How to Begin Set Up
Document Management and Digitization
Benefits of Streamlining Processes
References
Governance Document Management Framework https://www.cdu.edu.au/sites/default/files/governance/docs/governancedocumentmanagementframework.pdf
Troung, H (2021) Complete Guide to Managing Business Documents for Small Businesses https://anyconnector.com/en/business-documents.html