"Creating Order from Disorder"
- Quality Management
- Internal Audits
- Business Processes Mapping
- Business Plans
- Compliance
- Document Management
Are you tired of constant overwhelm, losing employees or customers, and operating in a disorganized environment?
BCINC works with you to create "order from disorder" of your processes and systems by first getting to the root cause of your business pain points. We then help course correct with proven, tailored business and process management improvement tools to get the results you desire to reduce operational costs. Clarity of what needs to be done removes guesswork and saves you from unnecessary spend.
Some of Your Common Pain Points
Don't know where to start improvement
Non - aligned or non - integrated core processes
Bottlenecks in operations
Duplicate processes and procedures
Constantly looking for documents
Non-conformance / Non-compliance
Consistently losing employees
Significant equipment downtime
Non-alignment of roles & responsibilities
Losing customers or clients due to poor customer experience
Some Tailored Solutions We Use
Internal operational audits
Business processes mapping
Creating, repairing or improving management systems
Aligning roles and responsibilities
Standardizing processes
Streamlining and optimizing processes
Improving personal and team productivity
Managing regulatory compliance
Developing Business or Operational plans
Creating strategic plans
Applying Lean Six Sigma methodologies....and more
We provide services in 3 core areas to reduce costs, yield higher ROI, and grow your business
Pinpoint areas to improve and eliminate guesswork about areas to provide greatest benefit and ROI
Improve management organization and structure to eliminate lack of task and process accountablities
Create objective visualizations of the current state of the business end-to-end core processes and activity owners, and improve to desired state of operations.
Streamline duplicate, overlapping, and redundant processes and optimize to improve work process efficiency, customer experience, and increase profit margins
Save time and money by standardizing repetitive and non-repetitive processes with documented procedures and other quality documentation.
Remove process and system frustrations with bottlenecks caused by poor management systems (quality, document, equipment, etc...) and reduce waste
Identify areas of regulatory and in-house non-compliance, opportunities for improvement in team productivity and operational management systems.
Create a foundational business plan for loans or investors, or course correct if you never even had one. We assist you with strategic planning and implementation and help you track progress toward your long-term goals.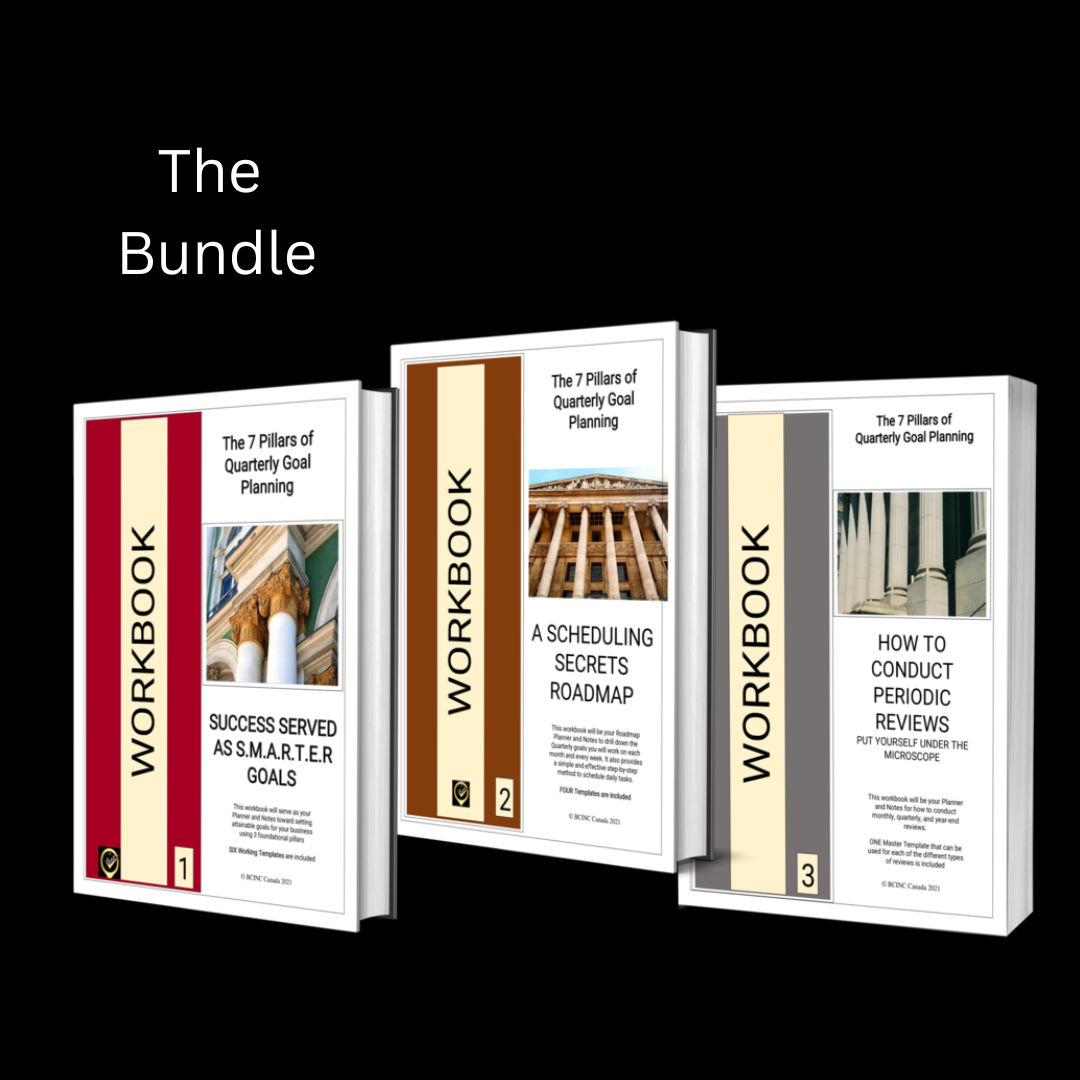 We Offer Digital Workbooks
View our collection of workbooks which serve as a step-by-step guide to getting your desired outcomes.
The Benefits of Improving Your Business Processes
Check Out Our Client Testimonials
Sean Bradley
Owner EnerClear Exteriors
As a small construction company going through a growth phase we struggled with processes to align and support the increase in business. Cecilia was amazing with breaking the business down and identifying workflows from customer first contact through the sales and production phases and finally closing a successful project. With this outline we were able to automate several of the steps, as well as delegate easier to help give the customer the best experience possible. I highly recommend BCINC and Cecilia to any contractor who is overrun by their business. There is a better way than working 60-70 hours a week! 
Nelson Liem
President & Founder - Exmerce
"I am very impressed with BCINC Canada teaching and helping us to get organized with our process improvements and document management system. Cecilia always brings a positive attitude, and has been very resourceful and helpful in completing the project and delivering what she had set out to do. She is an expert in this field, and I would highly recommend BCINCs services to any business looking to define and improve their process improvement, and to also set up a documentation management system to be better organized as a company"
Ryan Hansen
Owner - Hansen Plumbing & Heating
We recently had BCINC Canada guide us through building a proper business plan. It was a lot of work to complete but we felt it was very necessary for our business growth. We are very thankful to BCINC Canada for all the hard work put into this project. Very professional and excellent service."
Chris Lahti
Equipment Manager, Precision Geomatics
My experience is specifically with Cecilia, or Dr. J as I came to know her. We worked together years ago and as some employees I thought of QA/QC as another needless operation to get clients. Cecilia actually took the time to understand what we did as surveyors and I was so impressed with how she made the time to understand what she was applying her craft to as an industry which she had no idea of. Both of us have moved on and in my new ventures I plan on tapping Dr. J on the shoulder to help me out. I have really come to appreciate the QA/QC process and know I'll be in great hands with Cecilia at the wheel.
Patrick O'Grady
Client - Legal Services
Cecilia is a professional business woman who is able to assist business owners in progressing towards their goals. Highly recommended!
Lanre Lawal
Client - Not-for-Profit
She is a professional to the core, reliable and dedicated. I have known her for the past 7 years, she is an embodiment of peace and patience in service.
Jennifer Zalzal
CEO Zalzal Designs
Cecilia is a professional and a pleasure to work with. Highly recommend
Start Improvements on Your Business Processes Today