There are several benefits of Business Process Mapping which is a powerful tool used to visually document the steps in a current process from beginning to the end.
It identifies people involved, their roles, inputs, available controls, and outputs.
Mapping sets a baseline to the current state of a business from which improvement initiatives can be identified.
Uses of Business Process Mapping
Provide a high-level business overview
Preparation for business audits
Preparation as part of exit strategies for sale of a business
Prior to any process automation initiatives
Provide understanding of the effects of a proposed business change
Cost reductions
The Processes to Map
Consider these following areas:
Processes that are high volume or cost
Customer problems traced to the journey and poor experience
Processes that have identifiable issues
Process that significant manual intervention
Plan to automate some processes
What are the Benefits of Business Process Mapping?
Mapping requires time, effort, and skill but the benefits of the improved process are significant. Eight major benefits are discussed in this article.
Visualization
A picture they say is worth a thousand words and a well-documented process map is no exception (see infographic below).
It visually identifies how the existing process is being executed by understanding inputs and outputs with the view of making improvements.
Once an existing process is mapped, it can be analyzed for bottlenecks and inefficiencies. Improvements can be by simplifying, streamlining, optimizing, or re-engineering.
Communication
Details of a process are easier to communicate. Mapping makes narrative text easier to understand through visualization, and help to improve execution and collaboration within internal teams, departments, external stakeholders or with contractors
Benefits of Business Process Mapping – Process Standardization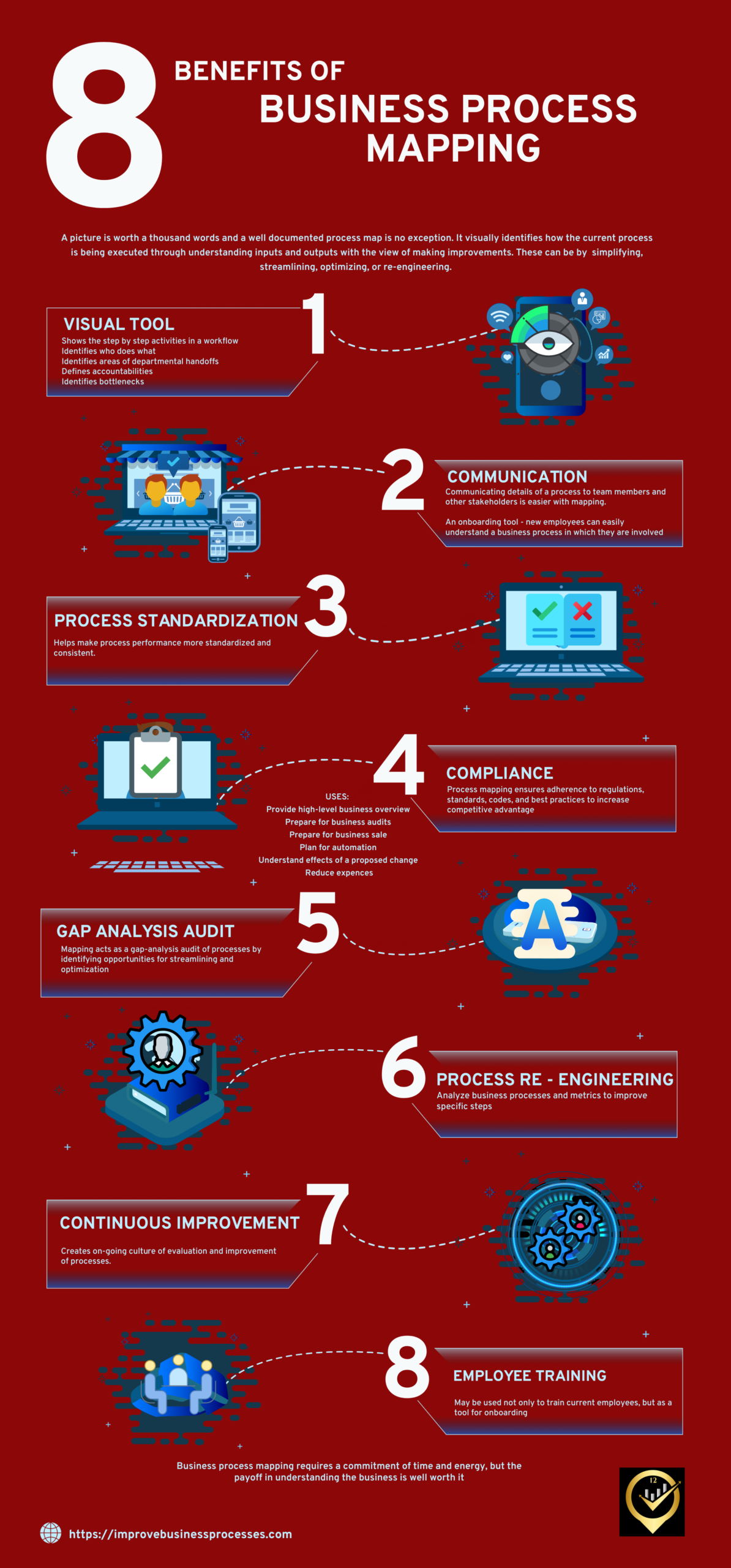 A process can be standardized by documenting it through mapping such that it can always be performed in the same series of steps to improve efficiency and reduce confusion created by ambiguity.
Standardized processes perform well more consistently
Process mapping ensures that the business complies not only with regulations, standards, codes, and industry best practices, but also necessary operational corporate requirements put in place by the organization.
Gap Analysis Audit
Internal audits of processes can be cumbersome and disruptive to the business.  Mapping, on the other hand simplifies internal auditing of processes and helps identify gaps where there are opportunities for improvement.
Process Re-engineering
Many businesses use business process mapping to analyze processes and metrics as part of reengineering an entire  process from start to finish, or to improve certain steps.
Continuous Improvement
Periodic mapping provides routine assessment and the opportunity for continuous improvement of processes.
Employee Training
Mapping provides a standard document which can be used for training. Because of the ease of comprehension of this document, it is easier to train employees faster.
Conclusion
Eight benefits of business process mapping are discussed in this article, all which improve the performance of processes. Skilled practitioners can get these initiatives done right.
BCINC Canada will assist your company. Call us or schedule a no obligation consultation with us for assistance:
Reference
IBM. Visualize Processes https://www.ibm.com/cloud/process-mapping